Executing B2B Lead Generation for Startups
Bill Murphy
Many startup owners struggle with starting their B2B lead generation campaigns. 85% of B2B marketers say lead generation is a top priority, but 44% rate their efforts as neutral when it comes to effectiveness. With the right techniques, you can gain the quality leads needed to meet your targets and grow as a business.
30-second summary:
Having a buyer persona helps you determine who qualifies a good lead.
Long-tail keywords account for 70% of search—your website should be optimized for keyword phrases that are longer and have purchase-intent.
Becoming a thought-leader through guest blogging opportunities and meaningful engagement with customers online pushes people through your funnel without a heavy-handed sales pitch.
Other b2b lead generation strategies include high-customized cold emails, paid ads on your audience's favorite social sites, re-targeting non-converters, and building thought leadership on social media.
An omnichannel strategy is best to generate b2b leads. Instead of relying on one channel, identify other channels that target your prospects, and make sure your strategy accounts for where prospects are in the sales funnel.
6 Tips for Generating B2B Leads
1. Pin-point who you're targeting to gain quality leads
To gather better leads, you must define what counts as a qualified lead. The best way to do this is through buyer personas. A buyer persona is a representation of your ideal customer based on real data. Buyer personas make it easier to cater to customer-specific needs.
When creating your buyer personas, keep in mind customer demographics, behavior patterns, motivations, and goals. The more detailed you are, the better. There are countless resources available to help you craft your buyer personas, including this one from Hubspot.
2. Gather more leads from your website
Use A/B testing
Website errors and slow site speed can hinder even the best executed B2B marketing strategies. The only way to see if your website is conversion-optimized is to test it.
A/B testing software can help you determine which version of your website generates more leads.
Free tool suggestion: A/B test your site for free using Google Optimize.
Fix broken pages
Errors and technical glitches cause your website visitors to leave before converting. 404 pages, broken links, and slow site speed can cause visitors to leave your website for good.
Free tool suggestion: Google Search Console will allow anyone to scan their website for issues that could cause a lowered conversion rate.
Optimize web page for mobile
Google penalizes websites that aren't mobile-friendly. These websites do not render well on a small cell phone screen and can cause users to leave your site prematurely.
Free tool suggestion: Google's Mobile-Friendly Test
Look for keyword opportunities
Find the hidden long-tail keywords bringing traffic to your site with Google Analytics. A long-tail keyword consists of three or more words and is very specific. Search volume on these keywords is low, but conversions high due to the search intent (e.g., "Buy project management software"). In fact, long-tail keywords account for 70% of search and typically have a 36% conversion rate. Choose long-tail keywords that have purchase intent so that you can attract quality leads.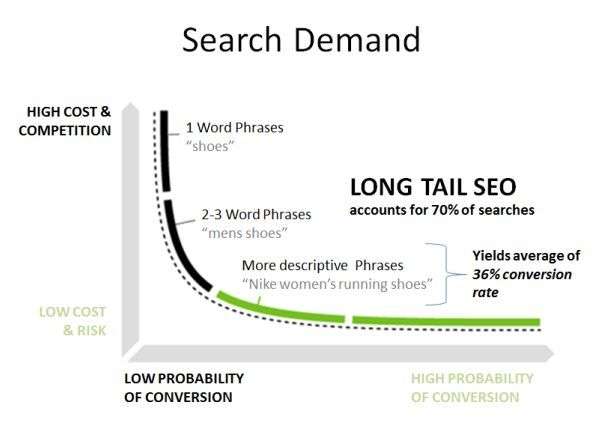 Image credit: Neil Patel Blog
3. Generating B2B leads in your content marketing strategy
Good content pushes people through your marketing funnel, and allows you to engage your prospects without a heavy-handed sales pitch.
Guest Blog
Create a list of non-competing websites that have blogs. Research the audience and then pitch the editor relevant blog topics. Using Ahrefs free backlink checker (there's also a premium version available), you can help you identify backlinks from your competitors and find opportunities on relevant publications.
You must take into consideration the audience of the website. There's no point in guest blogging if they aren't a good fit with your products or services.
Free tool suggestion: Ahrefs Backlink Checker
Lead Magnets
One of the best ways to generate B2B leads is to create lead magnets. A lead magnet is a valuable content visitors receive in exchange for an email address or other contact info. Lead magnets include free PDF checklists, reports, recorded webinars, eBooks, whitepapers, and guides.
Add Lead Forms
Having lead generation forms on your website on specific pages creates a daily pipeline of leads sent directly to your inbox. Seamlessly add lead forms by placing them inline with your content or via sticky bars. Free and paid options for lead generation forms exist.
Free tool suggestion: Google Forms is one option that's easy to set up and can be tracked seamlessly with Google Analytics.
Answer Questions on Quora
As a question-and-answer website, Quora reaches more than 100 million people monthly. Establish yourself as a thought-leader in your industry by offering expert answers to users' questions.
Use Video Marketing
Eight out of ten marketers consider YouTube to be the most effective platform for video marketing, and for a good reason. YouTube is the 2nd largest search engine after Google. Youtube, Vimeo, and other streaming video websites get tens of millions of visitors daily.
Image credit: Oberlo
Compare that to Facebook, which only 58.5 percent of marketers consider to be the most effective. Tap into this audience by creating "how-to" videos or other valuable content for your niche. Include a link to your website's landing page on the bottom of your video to drive traffic to your site.
4. Use email marketing to attract leads
Cold email
Highly-customized cold email helps grow your business. Cold email open rates are over 40% when the emails fit buyer personas. Make sure your emails comply with CAN-SPAM regulations. Hunter.io can help you find the email addresses of people in organizations you may want to reach. Software to help you automate the cold email process include:
5. Target prospects using paid ads
Paid marketing is a great way to generate new leads—but be careful. If you don't know what you're doing, paid marketing can consume a month's marketing budget in a few hours. Consider hiring help for paid ads if you're a novice.
Facebook Ads
Facebook collects data on users that is then made available to advertisers. The results are customized and hyper-specific ads shown to your target audience.
LinkedIn Ads
Running LinkedIn ads connects with B2B decision-makers, but it can get pricey. The average cost for cost-per-click on LinkedIn was $5.26 in 2018. Optimize your campaigns to maximize ROI and make sure you keep your budget in mind.
Google AdWords and Search PPC
Google AdWords is the original pay-per-click (PPC) network. Much like LinkedIn, Google AdWords costs climb quickly. Make sure you optimize the following for maximum ROI in Google Ad campaigns:
Ads
Creatives
Landing pages
Targeted keywords
Bids
Remarketing
Remarketing re-shows your ads to web visitors. A small piece of code called a "cookie" is automatically placed in users' web browsing and will anonymously track them wherever they go on the internet. Remarketing dramatically increases leads and conversions. Tools that allow remarketing include:
Leverage your Business Networks
Look for businesses who sell complementary services, but aren't a direct competitor, then reach out and offer to exchange banner ads for free. In short, they will run your banner ad, and you will run theirs. For this B2B lead generation tip to work, you'll need to ask how many visitors view their website monthly.
6. Find creative ways to target leads on social media 
More than just posting blog content, be sure to intelligently leverage a social media strategy that resonates with your ideal demographic.
Start or join a Facebook group
Facebook groups are useful tools to engage your audience. You can run paid ads or create gated content (paid or non-paid) to entice new visitors to join the conversation. Additionally, you can join and contribute to other Facebook Groups.
Build thought leadership on Twitter
Twitter is great for positioning yourself as a thought leader in your industry. Using Twitter to engage with leaders in your industry to help you and your business get noticed.
Connect with LinkedIn Groups and communities
LinkedIn is all about connecting with new people and establishing yourself as an expert in your industry. Use LinkedIn to connect with targets by commenting on relevant posts and asking questions. By engaging with the community, you'll be helping others, and people will take notice.
Generate positive reviews
Online reviews instill a level of trust in prospective customers who may be researching your company. If you don't have a lot of online reviews for your business, you can start the process by offering an incentive for current and past clients to give you an honest review.
Which Strategy is the Best?
You should combine parts of each strategy to give users a seamless and cohesive experience. You should not rely on one channel, instead, aim to create an omnichannel B2B lead generation strategy. For example, if you are putting together a cold email campaign, identify other channels that target your prospects like custom ads on Facebook or LinkedIn.
Your strategy will change based on where your prospects are on the sales funnel. For example, prospects at the bottom of the funnel are potentially purchase-ready and in the most aware stage. You may consider search ads, landing pages, email nurture campaigns, and manual calls for leads generated. Retarget non-converters at this stage with ads on Facebook and Twitter.
Conclusion and Closing Thoughts
Wrapping Up
To review, top B2B lead generation execution strategies include:
Using customer personas
Optimizing your website
Educating through content
Growing your email list
Using paid ads
Engaging creatively on social
Generating a continual stream of B2B leads is not something that happens overnight. But with a little planning, you should start seeing quality leads in a few months. Lead generation for B2B businesses isn't one-size-fits-all. What works for one company may not work for you. Be sure to test every lead generation tactic you choose for maximum results.
Great read for our B2B clients…